Mehendi Design – Getting a beautiful latest mehndi design engraved on your hands and feet is much more than just a typical Indian custom. We have gazed in awe at the beautiful hands and feet of our mother and other aunts at home on occasions like Karva Chauth and Diwali. Once when we were schoolgirls, we patiently waited for the Christmas season to rush to the Mehendi artist sitting with his book full of Mehendi in the nearby market or call the Mehendi master our mother relies on dousing our tiny beauty pens with henna.
At every stage of the journey from adolescence to adulthood, mehndi designs have played a massive role in marking each milestone. In Indian families, we celebrate every event, every wedding, and festive ritual or offering with a touch of henna on our hands. Over time, the use of Mehendi has been classified as a symbol of "Sola Shringar" by Indian women. It has always been considered an "auspicious sign" to celebrate tradition or a new beginning.
Mendy's ever-evolving role reached new heights as it became more than just a tradition to follow. Thanks to the skilful hands of creative Mehendi makers, women can now have beautiful stories documenting their love journey etched on their hands on their wedding day. Wedding mehndi has also seen a trend toward developing elegant Arabic mehndi designs, while the traditional mehndi with portraits of the bride and groom remains perennial. With the increasing demand for various henna designs in fashion, it is often difficult to choose a Mehendi design that suits your personality.
Do not be afraid! We have put together a wide selection of Mehndi Designs to help you choose designs that complement your style. Choose from custom whole arm mehndi patterns, Arabic Mehendi patterns with dark ethereal accents, trendy leg Mehendi patterns, etc.
Latest and Simple Arabic Mehndi Designs.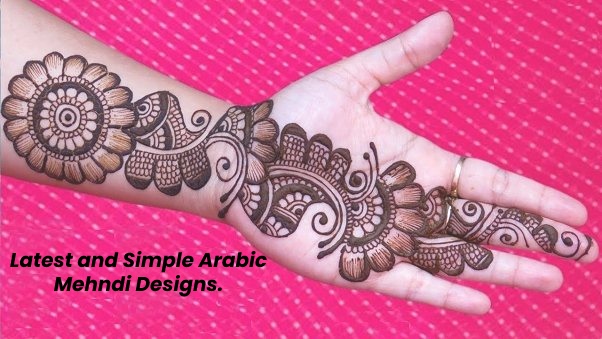 These simple Arabic mehndi designs are a mix of floral and mandala arrangements combined. When used on the hands and feet, they create unique designs that look intricate at first glance but not when drawn by an experienced mehndi artist.
1. floral Round Mehendi Design
The beauty of this mehndi design lies in the circular placement of the flower motif on the back of the hand and the tips of the fingers. This type of Mehendi looks best with matte nail paint.
2. Arabic Pinky Design
This minimalist Arabic Mehendi design features simple floral motifs that flow from one side of the back of the hand to the little finger. It also matches the designer's jaali pattern.
3. Minimalist Abstract Mehndi Design
This beautiful design has a modern twist as it combines different styles in Mehendi. This stunning minimalist Mehendi makes it look great and is one of the latest mehndi designs.
4. Multiple Jaali Designs
One of the most famous motifs is the jaali design. This jaali design is a mesh pattern drawn in Mehandi. In this mehndi design, the jalli motif is done in various places asymmetrically on the hand.
5. Arabic Lace Mehendi Design
This Mehendi design features an extensive lace pattern on the back of the hand, with a rose motif as the plan's centrepiece. Also, this lace design reaches down to the fingers for an Arabic Mehendi style.
Arabic Henna Patterns on the Front Hand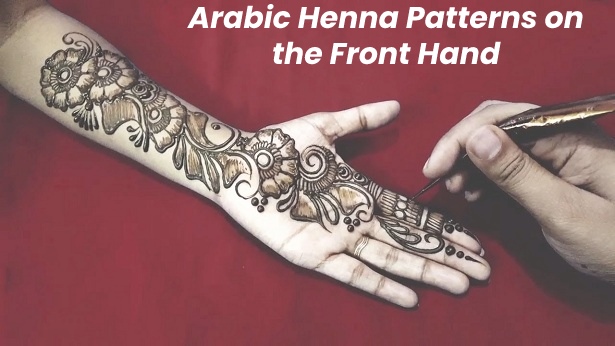 When you see these Arabic Mehendi patterns, you will notice how beautifully and aesthetically the stars, leaves, hanging bells, rangoli patterns, and peacock feather patterns are drawn on the hands of the bride. These Arabic Mehendi patterns are inspired by different elements of nature where simplicity is.
1. Symmetrical Mehendi Design
In this type of Arabic Mehendi design, the designs are applied symmetrically and are very attractive due to their geometric appearance. But this must be done very carefully to achieve a well-balanced look.
2. Latest Bell Mehendi Design
This Mehendi is adorned with a series of dangling bells that appear to hang from the detailed design of the jaali.
3. Bold Mehendi Design
In this type of Mehendi, the designs are layered so that the central motifs are highlighted with a thick layer of henna, giving a bold look to the overall design.
4. Design of Repetitive Motifs
This type of Mehendi has a repeating motif throughout the Mehendi design. It's also paired with a simple centrepiece to balance the repeating patterns.
5. Classic Arabic Mehendi Design
This design is the traditional style of doing Arabic Mehendi. It can be a good option if you want to avoid flashy motifs.
Conclusion
Be it a wedding, a ceremony, or an event in India where sweets are given, there is one thing that Indian women always do, or we can say that women in India always do. We are talking about drawing Mehendi on the hands. Arabic mehndi patterns are more popular these days. Some fashionistas also paint their feet. Mehendi is suitable for any occasion in India, especially weddings and ceremonies. It is considered auspicious in both Hindu and Islamic cultures. Although these days, every bride prefers to dye her arms and legs with Mehendi.