Outfits for Busy Moms – Being a mom can change a lot of things. Suddenly your calendar is busier than ever with doctor appointments, playdates, laundry, and everything else in between. You may be a mom, but just because you're a mom now doesn't mean you have to give up on style. There are plenty of chic outfits that are comfortable to wear and put together, even for the mom that has so much on her plate. Keep reading to get inspired by our list of ten stylish and comfortable outfits for busy moms.
Stylish and Comfortable Essentials for Busy Moms — First things first, let's take a look at stylish and comfortable pieces every mom needs in her wardrobe. You'll want basic tees in rotation as your top, and you don't have to stick to just plain white tees or oversized shirts. You can mix in pretty blouses and graphic tees to showcase your unique personality. Add on knit sweaters and hoodies to layer up through the seasons. For bottoms, you can rotate between denim, leggings, and joggers.
Sweatshirt and Biking Shorts — Next, let's look at some outfits you can wear throughout your week. Biking shorts or biker shorts are all the rage right now. Even if those tight-fitting shorts aren't your thing unless you're at spin class, it's easy and chic to pair an oversized sweatshirt over stylish shorts.
Denim Jacket and Jeans — The denim jacket and jeans combo is a neutral-inspired outfit that's polished yet practical for all kinds of activities with your little one. To style this outfit, wear a denim jacket with a white button-down, black jeans, and mules.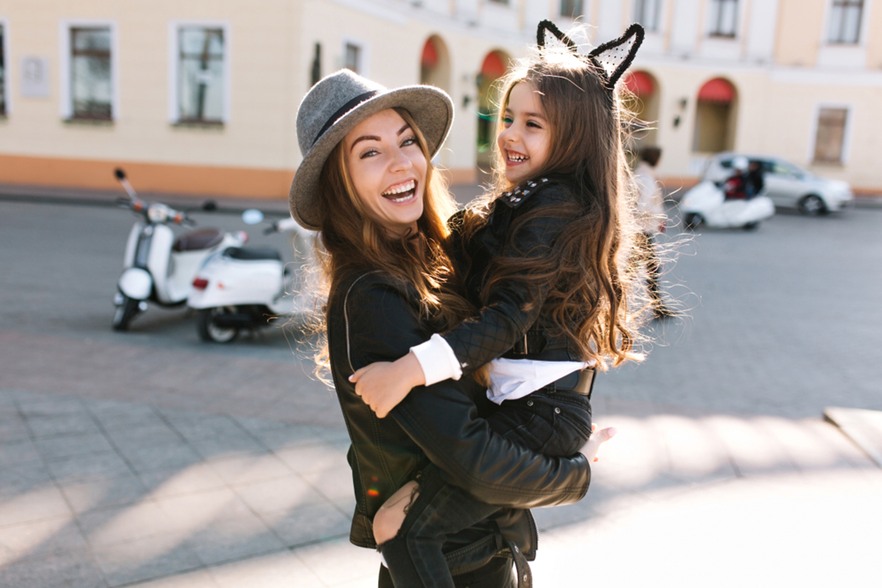 Cardigan and Jeans — There are plenty of ways to style a cardigan. You can wear the cardigan as a top with your jeans, or you can layer it up with your cardigan. To complete the look, you can wear any kind of trendy tops underneath your cardigan for extra flourish.
Midi Dress and Flats — For a dressier warm weather outfit that's still as practical as it is cute, wear a midi dress and flats. You can swap the flats for sneakers if you anticipate your day will have more running around. Midi dresses in white are the perfect spring and summer look.
Maxi Dress and Chunky Heels — Pair a floral maxi dress and chunky heels if you want a dressy look that you'll be able to rock for hours. Chunky heels offer more support than stilettos. The chunky heels could be block heels with a strap, or you can try espadrilles or wedges for a fun spring twist.
Button-Up Shirt and Skirt — The button-up shirt and skirt is the perfect outfit if you're going out on a Mom date with another mom or are looking for an outfit that can take you from your morning work meeting to your afternoon kids' pick-up at school. According to Judith Jones, a Who What Wear Fashion Editor and mom of two, if a button-down and pair of pants combo is more your thing, try a classic white cotton shirt with linen blend pants.
Leggings and Overcoat — There are going to be some days when you feel like you can only manage to grab leggings and head out the door. That happens to all of us, and the good news is that not only are leggings practical, but there are also plenty of ways to make this outfit a stylish choice with minimal effort. Layer up with an overcoat like a trench coat with a cinch belt or a longline flannel shirt jacket.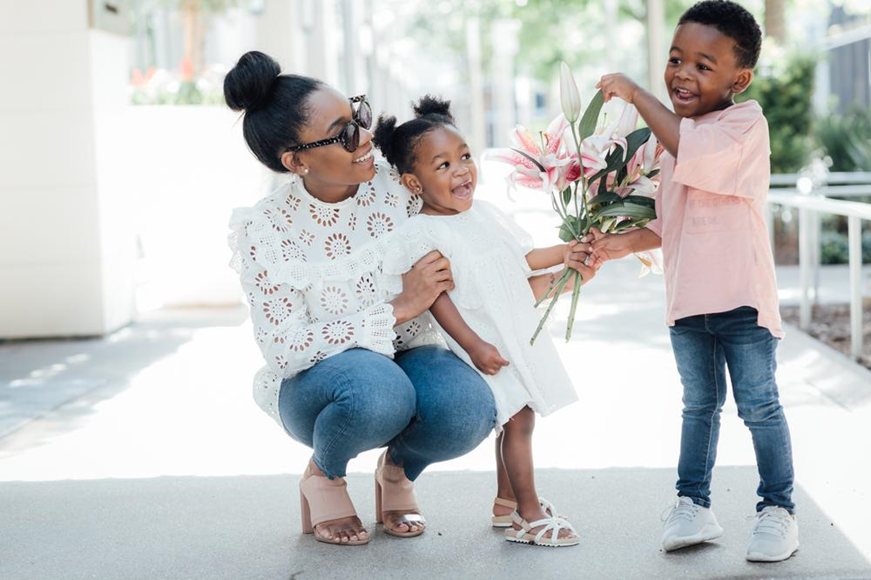 Sweater Dress and Long Coat — Was there a time before you had kids that you wore dresses all of the time? Then you became a mom, and it was like you lived in hoodies and sweats. Don't let mom life stop you from dressing like your best self. One of the most versatile looks you can wear all year long is a sweater dress and long coat. During the spring and summer months, you can wear a light sweater mini dress with a cozy cardigan. When it gets a bit chilly during fall or winter, layer up with a sweater maxi dress and long wool coat.
 Blazer, Jeans, and Sneakers — The blazer, jeans, and sneakers combo is perfect for any mom on the go. When you're working from home and have an important work meeting and only need to look professional from the waist up, a pretty blouse and structured blazer are sure to pull any look together. The jeans and sneakers at the bottom add functionality and a more casual vibe to your overall look.
We know you're juggling a lot, Mama. You've got your kids and your spouse, home cleaning and office work, cooking dinner and trying to eat your breakfast in peace, and everything else. While it may seem like looking stylish is an out-of-reach possibility during your day-to-day life, the good news is that with any of these easy tips, you'll look fabulous in no time. These cute women's clothing options will get you through even your busiest days.