Mother's Day is coming in just a few short weeks — it's on May 14th this year — which means that it's time to start thinking about what gifts to give your mom. If your mom is a big fan of skincare, then it makes sense to give her beauty gifts that you know she will use and love. To help inspire your shopping, we've rounded up nine different gift ideas for moms who love skincare, from face masks to fragrance sets:
Facial Cleansers
Many people think that cleansing is the most boring part of a skincare routine — but it doesn't have to be! Pamper your mom by giving her a nice cleansing that is formulated with beneficial ingredients designed to cleanse the skin without stripping. If she's not already using a makeup remover, then you can also introduce her to the magic of the double cleanse by giving her a cleansing oil or cleansing balm that will take off even the most stubborn waterproof mascara.
Active Serums
Serums are the powerhouses of any skincare routine and are typically the products that will make the biggest difference in your skin. That makes them an excellent gift for any moms who are skincare aficionados and looking to up their beauty game. Tailor the serums to her skincare concerns — whether that's fighting adult acne, hydrating dry skin, or targeting premature signs of aging — for a thoughtful yet practical gift she will use every day.
Creams and Moisturizers
Many women find themselves struggling with dry skin as they age and their natural oil production slows down. If your mom finds herself in this situation, she will definitely appreciate a gift of anti-aging creams and lotions that will soothe dryness while nourishing her skin. If you really want to splurge on her, get her a matching set with a face cream and an eye cream; eye creams are specifically formulated for the delicate skin around the eye, which is one of the first areas to show signs of aging.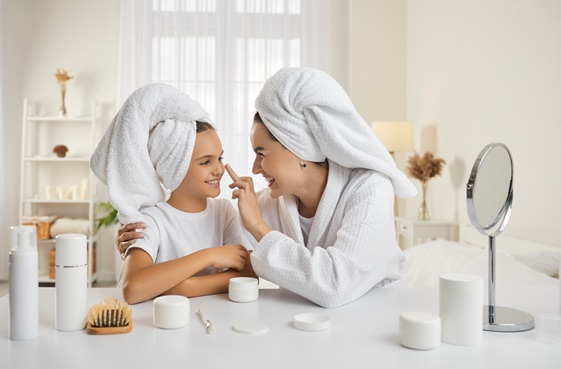 Face Masks
Face masks aren't an essential part of a skincare routine, but they are a great addition if you are looking to shake things up a little. They also make a great gift for moms who are very picky about their skincare products but are willing to try something new. Masks offer many different benefits, depending on the type you choose, including hydrating, exfoliating, brightening, and soothing. Consider getting your mom a sample pack of several different face masks if she is new to using them so she can try out multiple kinds.
Lip Balms and Hand Creams
Lip balms and hand creams are another small gift that are perfect for the mom who already has every skincare product she could dream of. After all, she needs multiple lip balms and hand creams for her nightstand, her purse, her car, her office, and other locations she frequents. Look for a hand cream that will absorb quickly, without leaving behind a greasy residue, so she can use it during the day as well as at night. Be sure to choose products in her favorite scents and flavors so she'll think of you every time she applies it.
Skincare Travel Kits
If your mom is a globetrotter who flies a lot, consider getting her a skincare travel kit from her favorite brand. These products come in small bottles that are compliant with TSA guidelines for liquids, which makes packing her suitcase a breeze — no more transferring product from full-size bottles to smaller ones. Even if your mom doesn't travel a lot, skincare travel kits are a great way to introduce her to lots of new products from a brand without committing to the full-size bottles.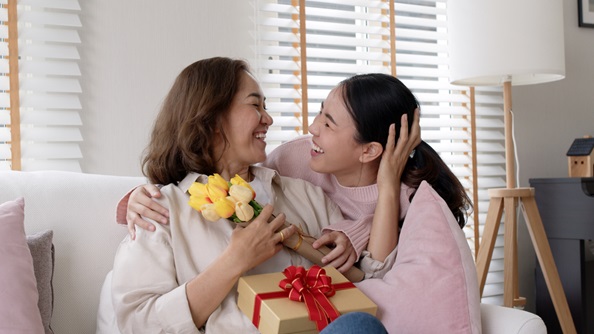 Skincare Tools
If your mom is truly an advanced skincare user, then she will be sure to appreciate a gift of skincare tools. This can take many different forms, from a simple and affordable jade roller to a premium at-home microdermabrasion tool or LED light therapy masks. When choosing this gift, consider not only your budget but also your mom's willingness to teach herself how to use these tools. In some cases, a gift card to a medical spa or dermatologist's office where she can get a treatment done by a professional might be a better option.
Body Wash & Lotion Set
If your mom is super picky about what skincare products she puts on her face, then it might be a better idea to get her a set of body wash and lotion that she can use instead. Many skincare brands have started branching into bath and body, making it easy to find products that you know your mom will love. They are typically available in different scents, so choose the one that you think your mom will like best. Also consider rounding out the gift with some luxurious additions like a new bathrobe and slippers or some scented candles that she can burn while taking a bath.
Fragrance Sample Set
While fragrances aren't strictly a skincare gift, many women who love skincare love perfume as well. If you know what scents your mom likes, go ahead and buy her a full-size bottle of one of her favorites or a travel-size that she can toss in her purse. If you're not sure what scents she likes, or your mom is new to fragrance, get her a set of sample coffrets so she can experiment to decide which ones she likes best.
Is your mom a big fan of skincare? Have you given your mom any beauty gifts that were well received in the past? What skincare products are on the top of your gift list this year? Let us know in the comments below!