Melts Fat Deposits: how to lose weight with the keto diet.
WHAT IS THE KETO DIET? THE PRINCIPLE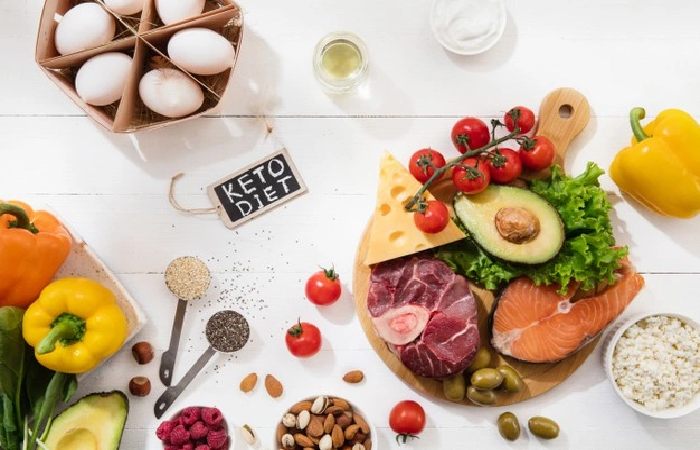 The ketogenic diet – or keto diet for short – has become one of the important nutrition trends in recent years. It is a particular form of the low-carb diet: The keto principle is on (extremely)  low-carbohydrate but a high-fat diet based.
Not eating carbohydrates saves a lot of calories: it also leads to so-called ketosis – a state in which our fat burning is in full swing.
You can even reduce stubborn fat deposits on your stomach, buttocks, and legs. with the ketogenic diet, In addition, there is usually even a specific weight loss every week
KETO DIET: WHAT CAN I EAT?
The keto diet does not specify a precise nutritional plan – so you can decide for yourself what you want to eat every day. The daily calories should be up as follows:
60 per cent fat
30 per cent protein
10 per cent carbohydrates
KETOGENIC DIET:  Foods Recommended Are
Here is a list of examples of ketogenic foods ideal for the diet. Our tip in advance: When it comes to fat, we advise you to look out for healthy fats  (e.g. omega-3 and omega-6 fatty acids). You should only eat meat in moderation.
Meat: Red meat, Steak, Chicken, Turkey
Oily fish: salmon, tuna, mackerel, trout
eggs
Dairy products: cream cheese, yoghurt, cheese
Nuts and seeds: walnuts, almonds, flaxseeds, chia seeds
Vegetable oils: olive oil, avocado oil, linseed oil
Low-carb vegetables: green vegetables, tomatoes, onions, peppers, mushrooms
Fruit:  Avocados and low-sugar fruits like berries in small amounts
Keto Snack Tips: You can eat three meals a day while on the ketogenic diet. olives, nuts, unique ketogenic bars or even a piece of dark chocolate are allowed in between snacks . In addition to still water, you can also drink unsweetened tea.
KETOGENIC FOODS: NO SUGAR KETO BARS
Foods containing sugar: sweets, ice cream, soft drinks
Grain products: bread,  pasta, rice
Fruits high in sugar: bananas, mangoes, grapes
Legumes: lentils, chickpeas, beans
Starchy vegetables : (sweet) potatoes, carrots, corn
alcohol
Unhealthy fats: processed oils, butter, fast food
Light products, artificial sweeteners
2 POPULAR VARIANTS OF THE KETOGENIC DIET
you can switch to two variations of the popular diet and still benefit from the advantages of classic keto diet.
1. TARGETED KETO DIET
The targeted keto diet, also known as the Targeted Keto Diet  (TKD), incorporates a more significant amount of carbohydrates into the daily diet.
The variant of the targeted ketogenic diet is primarily intended for athletes who have increased energy consumption before and after training and can therefore regenerate their muscles more quickly.
A total of 70 to 80 grams of carbohydrates are allowed in the TKD. These are best integrated into the diet in the form of fruits or vegetables to obtain essential vitamins at the same time.
2. CYCLICAL KETO DIET
The cyclic ketogenic diet alternates between strict keto days and days that follow a more balanced diet. The 5:2 rule applies to keto cycling: five days you stick to the limit of 50 grams of carbohydrates of the classic keto diet, and two days carbohydrates can make up to 50 per cent of the daily ration. It forces the body to switch between traditional energy production and ketosis.
Ideal for losing weight and your health: you can use the advantages of the ketogenic lifestyle for weight loss; on the other hand, a less one-sided diet guarantees the supply of essential vitamins, minerals and trace elements.
A total of 70 to 80 grams of carbohydrates are allowed in the TKD. These are best integrated into the diet in fruits or vegetables to obtain essential vitamins simultaneously.
you can also read @